Join us for an unforgettable cycling adventure in Croatia.
Dates:
September 28-October 7, 2017
Itinerary:
Riders arrive by September 27th, 2017.
Camp starts on September 28th from Trogir, Croatia, an ancient city and harbor situated on a small island just off the Dalmatian coast. Trogir lies just about an hour away from the port town of Split. We'll will spend 7 nights in the Bifora Heritage Hotel here, with 5 diverse cycling routes planned from this base. We'll enjoy one non-cycling adventure day during our time in Trogir, featuring a journey to the Krka National Park. Rides from Trogir will include a ride on the island of Brac and the island of Hvar, both accessible only by ferry. Other highlights will be a ride to the town of Makarska and rides along the scenic Dalmatian coast — and no, there aren't spotted puppies everywhere.
From Trogir, we will take the ferry to the garden island of Korcula where we will ride the entire length of the island (26 miles) and stay two nights in the Marko Polo Hotel. Our final riding day will take the riders from Korcula to just outside of the historic city of Dubrovnik where we will stay at the hotel Lapad for the final two nights. Riders will end their journey by enjoying a non-cycling adventure day on the town in Dubrovnik.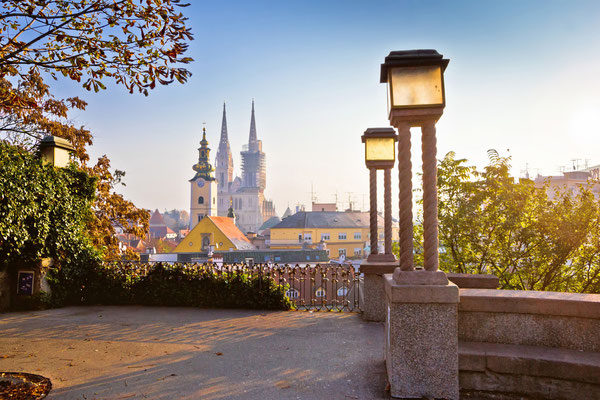 What's included:
-10 nights of accommodations (September 27th-October 7th)
-10 breakfasts
-7 dinners
-Ferry boat tickets
What's not included:
-Lunches (many days we'll just ride through lunch and snack all day, but there will be opportunity to purchase your own lunch if desired)
-Bike Rentals (Zagreb – $250-$300 for the duration of the trip)
-3 of the dinners will be on your own
-Krka Park entrance fee
-Travel to and from camp
-All on-the-bike nutrition
Transportation:
There are two options for travel to camp.
Option 1: Fly into Zagreb early and take the train from Zagreb to Split on September 27th. This is considered an amazing train ride that will take you through the interior of Croatia through scenic mountains and countryside.
Option 2: Fly directly into Spit on September 27th and get picked up at the airport.
In either case, riders will want to make their flight home out of Dubrovnik on October 7th or 8th.
Weather:
The average high for this area in early October is about 65 degrees Fahrenheit, with an average low in the high 40s. Expect warm to mild riding conditions with a slim chance of showers during our time there.
Bike Rental:
Riders are more than welcome to bring their own bike, however the easiest and most affordable option is to rent a bike on-site. Rental is not included, but is recommended from a local Giant dealer in Zagreb. Rental pricing is quoted at around $250-$300 for the duration of the trip. For an additional fee, we can simply have the bike ready for you at the hotel upon your arrival. Please let us know as soon as possible if you would like to rent a bicycle.
Camp Payment/Deposit:
Cost is $2,950 per person for double occupancy, and $3,950 for single occupancy. Space is limited to 14 cyclists. A $1,000 refundable deposit is required to reserve your spot. Cancellations made more than 90 days prior to the trip date will receive a full refund. A 50% refund will be issued for cancellations made within 30-90 days prior to the trip, and cancellations made less than 30 days prior will receive no refund.